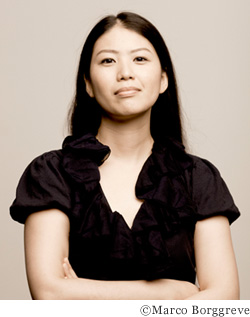 Yoko Kikuchi was born in Japan where she studied with Kiyoko Tanaka.
In 1996 she moved to Italy and she studied piano with Franco Scala, Antonio Ballista and Fortepiano with Stefano Fiuzzi at the "Incontri col Maestro"International Piano Academy in Imola.

In 2002 she won first prize at International Mozart Competition in Salzburg, since then she has performed with major orchestra in Asia and in Europe.
She has performed with many conductors including Laurence Foster ,Gerd Albrecht, Dennis Russell Davis, Ivor Bolton, Leif Segerstam, Alexsander Dmitriev, HK Gruber, , Dmitry Sitkovetsky, Hubert Soudant, Günter Pichiler, Pedro Halffter, Eiji Oue,
Christian Mandeal,,Christian Arming, Omer Meir Wellber among others.

She has performed with Mozarteum Orchester Salzburg,Gulbenkian Orchestra, NDR Radio Philharmonie orchester Hannover,NHK Symphony Orchestra, Franz Liszt Chamber Orchestra, Orchestra da camera di Mantova,Orchestra Pomeriggi Musicale di Milano,Chamber Orchestra of Auvergne, Orchestra "Haydn"di Bolzano, Camerata Virtuosi of New York, Slovenia Radio Television Orchestra, Hellas Orchestra di Patrasso,Shanghai Symphony Orchestra,Hong Kong Sinfonietta, Shenzhen Symphony Orchestra, Tokyo Symphony Orchestra, New Japan Philharmonic Orchestra, Tokyo Philharmonic Orchestra , Yomiuri Nippon Symphony Orchestra, Tokyo Metropolitan Symphony Orchestra,Japan Philarmonic Orchestra ,Osaka Philarmonic Orchestra Orchestra Ensemble Kanazawa and others

Yoko Kikuchi's love of chamber music has led her to collaborate with many other musicians including Ensemble Wien Berlin, Philarmonic String Quintet Berlin ,Leipzig Quartet , Radek Baborak.,Daniele Damiano.,Andreas Ottenamer
Her debut CD Mozart Album was awarded the 18th Music PenClub Prize's "Best Recording by a Japanese Artist" .
In 2007 she won 'Idemitsu Awards'
In addition,she also participated in several music festival and concert series such as Mozart-Matinee of Salzburg Festival ,Schleswig- Holstein Musik Festival ,Bodensee Festival in Germany,Recital series of Tonhalle Zurich ,St.Ursanne Piano Festival in Switzerland ,Schloss Eggenberg concert series in Austria ,Sintra Festival, Madeira Festival, Leiria Festival in Portogallo,Settembre Musica of Torino ,Maggio musicale Fiorentino of Florence, Mittelfest of Udine,Emilia Romagna Festival ,Palermo Festival and others in Italy